Nara Prefectural Convention Center
Nara Prefectural Convention Center is located in the middle of Nara City between Nara Park and Heijo Palace Site, surrounded by World Heritage sites. Easily reached from Kansai International Airport via a direct limousine bus in 90 minutes, Nara City offers excellent access to travelers from overseas. Getting to Nara from Osaka and Kyoto is under 60 minutes by public transport.
Adjacent to JW Marriott Hotel Nara, Nara Prefectural Convention Center is equipped with 14 conference rooms, indoor and outdoor multi-purpose spaces, and tourism promotion facilities, including Nara Prefecture's largest convention hall at 2,100m2. It is the ideal location for a wide variety of events such as international conferences, academic meetings, seminars, exhibitions and business negotiations.
Overview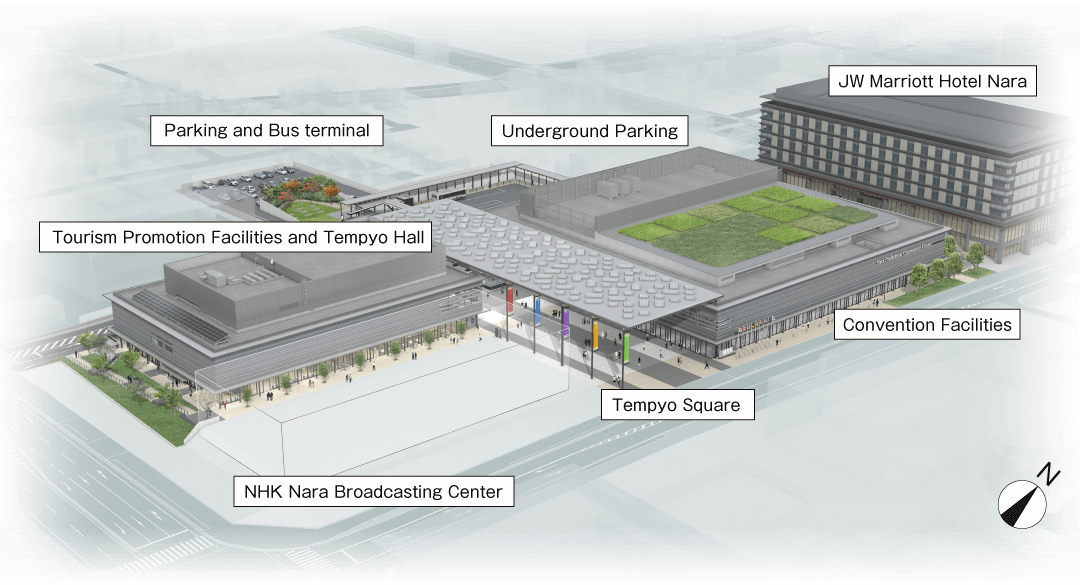 1F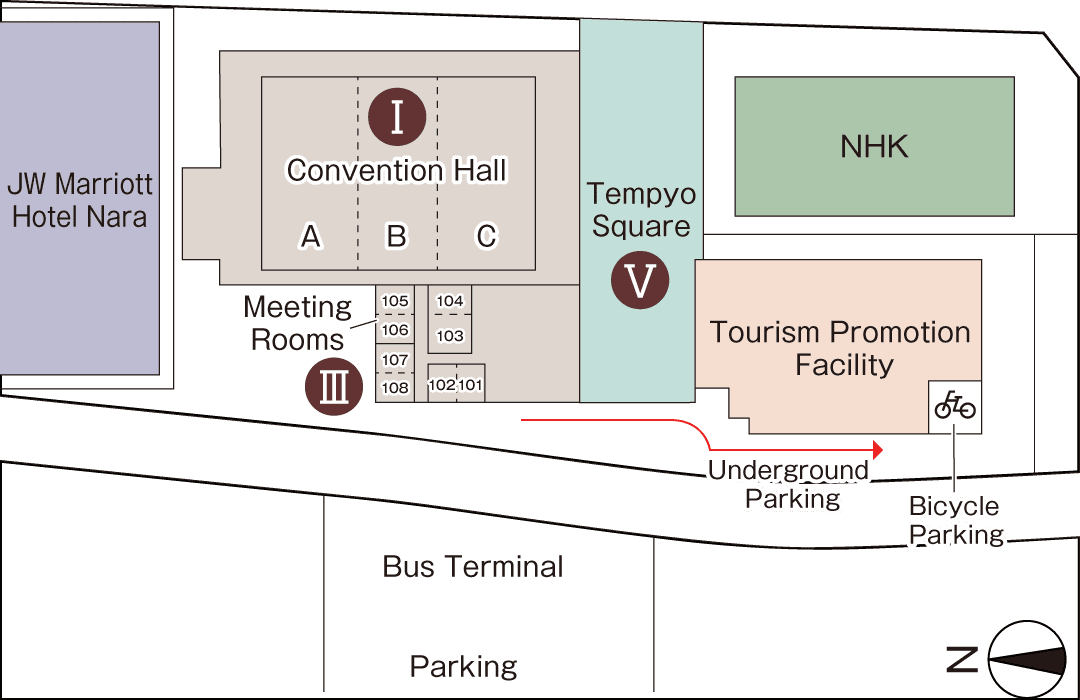 2F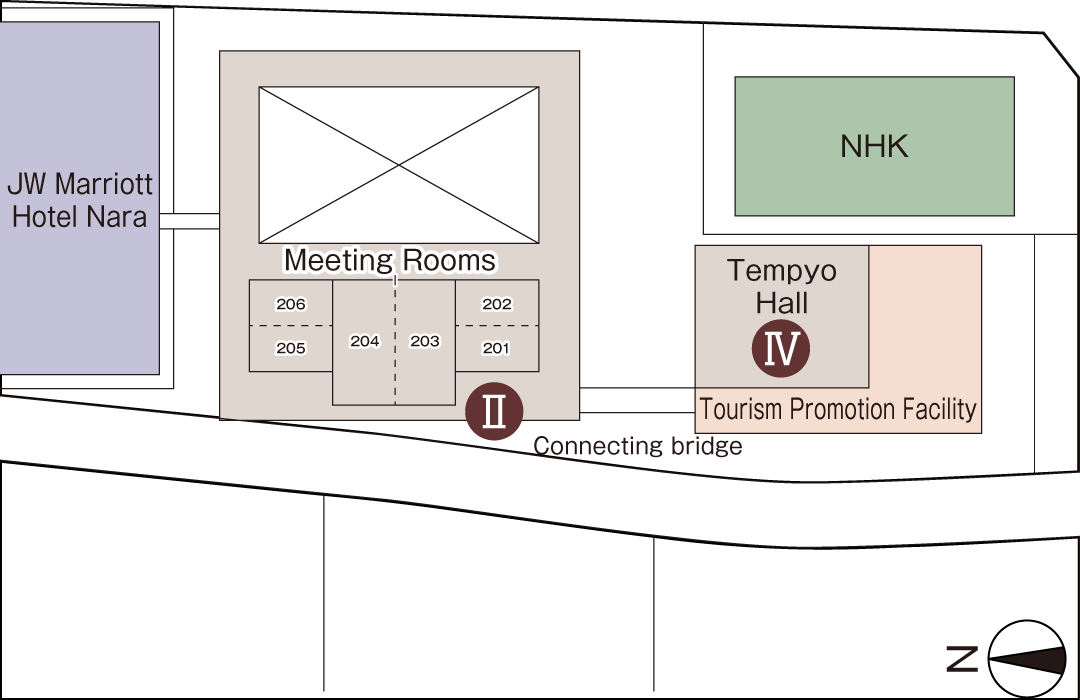 Free Wi-Fi is available. ※Except for Tempyo Square

I. Convention Hall

Expansive space of 2,100m2 with a ceiling height of 9.9m
Suitable for exhibitions, academic meetings, lectures and parties

1

Facility Overview

2

Layout Examples

Theater style [Combined / Separate]

Classroom style [Combined / Separate]

Banquet [Standing / Seated]

II. Meeting Rooms 201-206

High-quality meeting room capable of holding international conferences, as well as subcommittee meetings of academic societies.

1

Facility Overview

2

Layout Examples

Theater style [Combined: 3 rooms / Separate: 6 rooms]

III. Meeting Rooms 101-108

Suitable for meetings, seminars and trainings and waiting rooms for large events.

1

Facility Overview

2

Layout Examples

Theater style [Combined: 4 rooms / Separate: 8 rooms]

IV. Tempyo Hall

Suitable for film screening, performance for concerts and plays with flexible tiered seating.

1

Facility Overview

2

Layout Example

Theater style [Example of Flat seating]

V. Tempyo Square

Large roofed space of 1,100m2 ideal for spacious open-air events
Inquiry
NARA Prefectural Convention Center
TEL: +81-0742-32-2290
FAX: +81-0742-32-2291
E-mail: info@nara-cc.jp
Access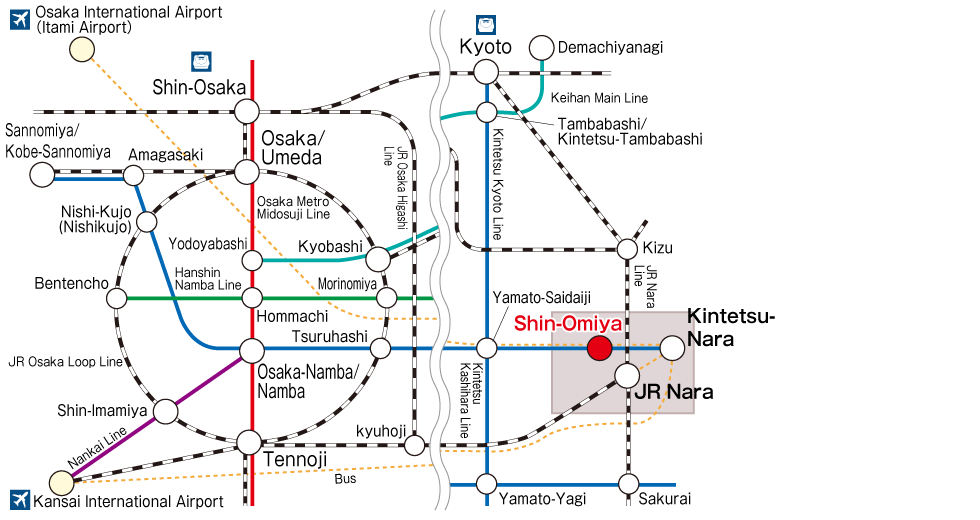 By Train

By Plane

Access map